CARE AND SUPPORT FOR TRANSGENDER PERSONS IN CENTRAL UGANDA PROJECT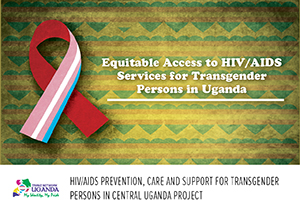 Majority of transgender people in Uganda are at high risk of contracting HIV/AIDS and yet they have been largely ignored in HIV prevention, care and support efforts. The gap is created by social stereotyping that perpetuates discrimination, stigma and rejection based on gender. The same attitude propagates into professional social service providers like in Education and healthcare who do not understand Trans gender specific healthcare issues and needs.
The challenge is further compounded on by the draconian laws which criminalize homosexuality in Uganda as transgender persons are the branded face of the gay movement in Uganda. As such transgender persons in Uganda face particular challenges with access to employment, basic health care, housing and shelter.
This project is an undertaking to increase awareness, understanding and acceptance of transgender people by communities especially social service providers; increasing access to Sexual and reproductive health services and advocating to promote, protect and respect for rights of transgender persons through advocating for an enabling environment for enjoyment of transgender rights in Uganda.
The project focuses on addressing policy, legal and social barriers that impede access to rights and healthcare services; ensuring rights, and effective representation of transgender opinion in decision making processes and structures that influence social service delivery especially healthcare at national and local levels in Uganda.
Overall Project Goal
To increase access to equitable HIV/AIDS services and opportunities for Transgender persons in Uganda.
Specific Objectives,
To increase HIV/AIDS awareness among the transgender persons in the two districts of Wakiso and Kampala in Uganda
To advocate and promote equitable HIV/AIDS services for transgender persons in the two districts of Wakiso and Kampala in Uganda
To provide drop-in HIV/AIDS prevention services to 510 transgender persons in the two districts of Wakiso and Kampala in Uganda
The project is being implemented through various activities which include;
Weekly community outreaches for HIV counselling and testing
Formation of community-based support group for transgender persons living with HIV/AIDS in Wakiso and Kampala
ART client follow ups to ensure drug adherence and viral suppression
Provision of Psychosocial support group sessions for transgender persons living with HIV.
Health Literacy Trainings
Referrals for HIV/AIDS positive transgender persons
Social networking, information and experience sharing sessions