Trehss Project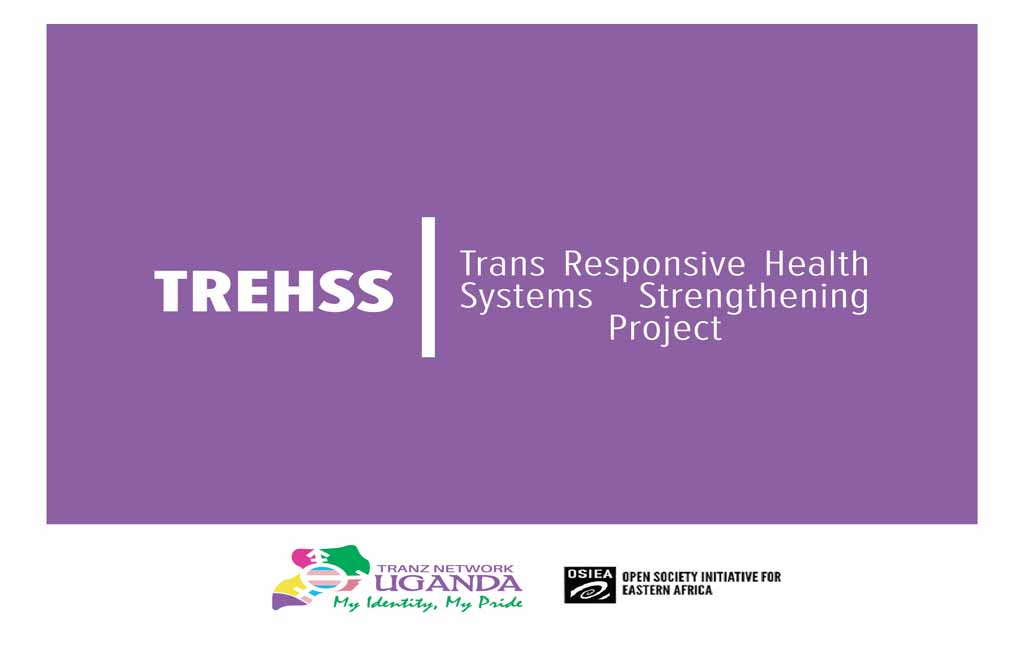 Trans Responsive Health Systems Strengthening Project, is a two-year project implemented by Tranz Network Uganda. The project will run from January 1st, 2021 to December 31st, 2021. The Trans Responsive Health System-Strengthening Project supported by OSIEA and will be implemented in three (3) regions of Uganda (Eastern, Western, and Central). This project will be addressing the challenges of limited access to health care services, stigma and discrimination of trans gender and gender diverse persons in Uganda. The project also aims to drive health systems in the fore mentioned regions towards a rights-based service delivery approach.
Overall Goal of TREHSS Project: To improve access to and utilization of integrated health services that effectively respond to the specific needs of trans and gender diverse persons in Uganda.
Objective 1: To increase demand, access and utilization of integrated health services in a safe, friendly and transgender led environment
Objective 2: To strengthen the responsiveness of the public health facilities to trans health needs
Objective 3: To strengthen capacity of TNU to support effective demand and utilization of existing health services by trans persons in Uganda.
KEY ACTIVITIES:
Establishing three (3) Regional Drop in Centers of Excellence (DICE) in Central, Eastern and Western Uganda
Project baseline assessment (Demand, access and utilization of mental health, HIV/AIDS, SRHR by transgender and gender diverse persons)
Capacity building and support of community support persons (mental health counsellors, Peer educators etc.)
Mental health awareness boot camp
Mental health first aid outreaches and group therapy activities
Building capacity of 9 model transgender friendly public health facilities (3 HCFs in Central region, 3 in Eastern region and 3 in Western region).
Training of sixty (60) health workers on rights-based approach to health care delivery and transgender health care
Training of thirty (30) trans community members/health service monitors on community score card approach
Quarterly health service score cards at nine (9) health facilities
Biannual regional reflection and health services advocacy meetings based on score card data with key stakeholders
Development of trans health mobile application to increase uptake of health services.